How many Easter eggs can you find?
Count the Easter eggs and be entered to win prizes for children and adults! Use your mouse to click and hold the screen to look up, look down, zoom in and out and spin around. Walk through the center of the downtown Paso Robles City park between the Carnegie Library and the fountain. Be sure to count all the plastic Easter eggs you find along the way. There are more than 30! All correct entries will be entered in a raffle for 10 prizes including the five children's Easter baskets featured with the Easter bunny above and local wines for the adults. Please submit only one entry per person. Deadline for entry is midnight on Easter. Winners will be notified by email. Prizes will be available for pick up the Monday after Easter in downtown Paso Robles. Happy Easter!
Enter the contest to win prizes for children and adults!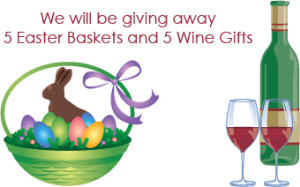 This website was created by Access Publishing. Learn more about on the online virtual tour technology called Google Business Photos.
Special thanks to our sponsors listed in our business directory.